Winner Of The 2005 Karaoke Idol USA Contest Is:
Congratulations To

David (Daveed) Bonilla Of Lynn, Ma.
Representing 47 Central In Lynn, Ma.
Cd's Are Available Of The Individual Finalist's For Purchase.
If You Would Like One Email Me At Ann@KaraokeIdolUSA.com
We also have A Compilation Cd Of All The Finalist's.
The Cd's Are $12. If You Want It Autographed Please Let Me
Know.

Finalists:

Sheila Geisler Of Newton, NH.
Representing Collins Cafe In Peabody, Ma.
I have been on the stage since the age of 2. Which made the stage my second home. The first time I hit the stage in a dance recital I knew that is where I wanted to be. At the age of 10 I took up the keyboards, and at the age of 15 I started to play the drums. I was a member of many garage bands, but the best band I was in was "LIPSTICK". After Many years of being the person keeping the beat in the back, I knew I wanted to be out in front. All my friends told me I could not sing. So I took their word for it and took up Lip Syncing. I won the East Coast Championship back in 1989. Against my friends advice, I hit a Karaoke Club, and just like almost any other person I became a Karaoke Junkie. In 1995 I became a Reba Impersonator and placed 2nd in the national finals in Florida. A few years later, I started to also impersonate Shania Twain. I recently retired and returned to having fun in the Karaoke Circuit.
Why should be your Karaoke Idol? So I could call all my friends and tell them "See I can Sing". I am looking forward to hitting the stage in front of a crowd again. I guess I miss it more than I want to admit.
Finalist Sheila Geisler
Artist
Title
Time
Sheila Geisler
Welcome To The Jungle
3:25'
Sheila Geisler
The Night The Lights Went Out In
Georgia
3:46'
Sheila Geisler
Trashy Woman (Men)
2:57'

powered by Glowmark

Jillian Shamberger Of Gloucester, Ma.
Representing The Harbor House In
Gloucester, Ma.
I love to sing and be the biggest ham I know how to be. I was a Karaoke Host for about a year and it was absolutely the best job ever. "What you want to pay me to sing and drink? OK" Whenever I go out Karaoke is the first thing I look for. Everyone gets to be a Rock Star
I think I should be the Karaoke Idol because it's all about the scene. Sing Loud and have fun. I could have fun in a paper bag and that is what I think you should bring to it, Because even if I don't win it's still gonna be a Rockin' Party!
Finalist Jillian Shamberger
Artist
Title
Time
Jillian Shamberger
Lady Marmalade
4:21'
Jillian Shamberger
Dream On
3:42'
Jillian Shamberger
Just A Girl
3:04'

Jillian Descoteaux Of Haverhill, Ma.
Representing Oriental Gardens Wednesday
In Haverhill, Ma.
Singing is my favorite release. I Have Been singing for as long as I can remember. In middle
school and high school I did many group competitions, won many individual awards, and after high school did community theater. It's the one thing I can always go back to and pick up right where I left off.
I would like to be the KaraokeIdol to prove to myself that all my efforts over the years at learning to sing, taking lessons, improving myself, and throwing all my emotions into it were all worth it in the end. Singing makes me who I am.


Finalist Jillian Descoteaux
Artist
Title
Time
Jillian Descoteaux
Fever
3:03'
Jillian Descoteaux
I Want You To Want Me
3:00'
Jillian Descoteaux
Big Deal
3:1

Steve Hamel Of Haverhill, Ma.
Representing Oriental Gardens Thursday
In Haverhill, Ma.
I started going to Oriental Gardens with a friend who talked me into trying Karaoke one night about 4 years ago. It didn't take long for me to get hooked on it. had for a short time been a background singer in a Lawrence, Ma. based salsa band so singing wasn't new to me but singing in front of people was. After that first night though I couldn't get enough. I eventually got my own setup and started doing Karaoke shows on my own under the name KJ Steve. I have been pretty much a regular on Thursday nights and some weeks have been known to go 3 nights in a row. For anyone too chicken to try it, be like me and give it a shot. You might surprise yourself and your friends.
Why I would make a good Karaoke Idol winner is that I get along with everyone and would be a good person to represent Karaoke to others. And I also want World peace.
Finalist Steve Hamel
Artist
Title
Time
Steve Hamel
The Dance
2:26'
Steve Hamel
Let Her Cry
5:00'
Steve Hamel
Sold
2:13'

Colleen Mota Of Methuen, Ma.
Representing Oriental Gardens Saturday
In Haverhill, Ma.
I have always wanted to be a singer. I used to watch my grandmother singing in the choir loft and I always thought "that 's going to be me someday." I sang all throughout high school, took private lessons for 2 years and joined both the chorus and acapella choir in college. Since then I have been singing Wherever and whenever I can. Music keeps me sane, and it's a lot cheaper than a psychiatrist.
I think that I should be the Karaoke Idol because I enjoy making people smile and music is a great way to connect with people.
Finalist Colleen Mota
Artist
Title
Time
Colleen Mota
Let's Hear It For The Boy
3:13'
Colleen Mota
Everybody Hurt's
4:31'
Colleen Mota
Fallen'
2:56'

Marcella Frazier Of Brockton, Ma.
Representing Escapades Sunday In
Raynham, Ma.
I have been singing ever since I can remember. I used to perform shows for my family after dinner every night. I would sing, dance and act for them. I joined chorus as soon as I could in elementary school. I stayed with chorus all the way through high school. I even joined the show choir. That way, I could sing and dance. I was always a part of the Talent shows. After high school I took up voice lessons for a while. I started going to Karaoke shows a few years ago and I am totally hooked. I have met some really great friends who like to sing as much as I do and have a damn good time.
I think I should be the next Karaoke Idol because I can sing and I have a great time doing it. It's all about having a good time and that is what I am looking forward to in the competition.

Alex Valentine Of New Bedford, Ma.
Representing Escapades Thursday In
Raynham, Ma.
Finalist Alex Valentine
Artist
Title
Time
Alex Valentine
Purple Rain
3:33'
Alex Valentine
At This Moment
3:37'
Alex Valentine
Hello
3:38'

Kevin Wallace Of Brockton, Ma.
Representing The Randolph Country Club
In Randolph, Ma.
I am a Rockland native currently living in Brockton. I work as a groundskeeper for Lifeworks In Norwood. I've Sung throughout high School. I have also appeared in various shows around the South Shore area. I Obviously enjoy Country Music.
I think I should be the Karaoke Idol because my friends believe I am a talented singer who is also a genuine person who would represent the competition well.

Jerry (Vegas) Valcour Of Everett, Ma.
Representing Hammer Heads In
Lynn, Ma.
Karaoke is a night of entertainment for myself, my friends and others. And is something I worked hard at over the years, to improve myself as a singer and entertainer.
That is why I think I should be the Karaoke Idol.
Finalist Jerry "Vegas" Valcour
Artist
Title
Time
Jerry Valcour
The Wonder Of You
2:19'
Jerry Valcour
Delilah
3:09'
Jerry Valcour
I'll Never Fall In Love Again
3:54'

Kathleen O'Connell Of Winthrop, Ma.
Representing Jimmy Maggs In
East Boston, Ma.
I've been singing since I was a little girl. (I have the tapes to prove it) LOL! I love being in front of people singing my butt off. I am a former lead singer of That's That. That's when I really turned into the rocker I am now. I used to do R & B ballads. Singing Karaoke is fun and gives me release after a long day. I tried out for American Idol last year at two venues. I got to the second round both times. Earlier in the year I won an "It Is What It Is" Karaoke reality show contest for $1,000. I had to beat out some tough competition. I also have won many local contests at different bars on the North Shore. If you enjoy the sound of Janis mixed with Aerosmith come on down to vote for me.
I think I should be the Karaoke Idol because I give people what they want. Also I think I should be the Karaoke Idol because I'm a great representation of what a star should be here in Massachusetts.
Finalist Kathleen O'Connell
Artist
Title
Time
Kathleen O'Connell
Welcome To The Jungle
3:52'
Kathleen O'Connell
Listen To Your Heart
4:45'
Kathleen O'Connell
Piece Of My Heart
3:42'

Danielle Foirillo Of Revere, Ma.
Representing The Point In
Boston, Ma.
I've always known I wanted to be a singer. I've been singing since the age of 3 1/2. And though I have no voice training, I practice most of my free time. It is my dream, my one wish and I wanted to make it happen.
I feel I would be a Karaoke Idol because I am a Karaoke Fanatic. I could go to Karaoke 7 days a week. Also I am very determined and dedicated to win and be the next Karaoke Idol of the USA.

Greg Elwell Of Haverhill, Ma.
Representing The Courthouse Pub In
Peabody, Ma.
I have enjoyed singing since I was a kid. My Family and I have been involved in Community Theater on and off for several years. Being part of a theater group helped me to come out of my shell and also gave me the confidence to know that I could perform in front of an audience of any size. I was able to participate in several reviews and musicals and learned to subtly improve with each performance.
I first tried karaoke in the early '90's and thought it was a lot of fun. The more I tried it, the more comfortable I felt. I've always liked singing songs that the audience can get into and sing along with. I think that I could be a Karaoke Idol that people can relate to because I consider myself a regular guy. I figure if people see me get up to sing then they might feel it's something they could try.
Finalist Greg Elwell
Artist
Title
Time
Greg Elwell
Your Smiling Face
2:31'
Greg Elwell
I Write The Songs
3:21'
Greg Elwell
Sweet Caroline
3:09'

Grace Grover Of Haverhill, Ma.
Representing Ipswich Bay Bar & Grill In
Ipswich, Ma.
I have loved music all my life. When Karaoke became popular I was hooked. I have been a Karaoke junky since 1989. I practice everyday on my home system. I've been in two or three garage bands playing cover tunes and absolutely loved being on stage. I still perform at open mike blues jams a few times a month with live bands but Karaoke is my passion. My early major influences were of course my parents rest their souls and bless them for giving this love of music. I sing always for them in my heart. Other influences include many great artists such as : Elvis, Dolly Parton, Journey, Heart, Pat Benatar, Mariah Carey And Whitney Houston to name a few. I have won trophies and awards, money and even flew a bi-plane as competition awards. I have a scrapbook tracing my experiences. My wins and loses. But I sing for myself, I sing for the passion and emotion that I can express through my Voice. I have to admit though that nothing can replace the awesome feeling I get from the response of the crowd. Knowing that I am pleasing the audience is the best!
My dream of dreams is to one day sing at "The Grand Ole Opry" and maybe have a little "Grace" land of my own right here. Winning Karaoke Idol USA would be a great step toward that dream. My turn to let people see who I am and what I can do! And hopefully become your Karaoke Idol USA.
Finalist Grace Grover
Artist
Title
Time
Grace Grover
Can't Fight The Moonlight
3:32'
Grace Grover
It's A Little Too Late
2:26'
Grace Grover
Stand Back
4:42'

Pamela (Sparkle) Sevincgil Of Salem, NH.
Representing Charlie's Place In
Haverhill, Ma.
As a child I had dreamt of becoming a "Star" but was to shy to pursue my dreams until now. I had taken dance lessons and was in the chorus for many years but never felt confident enough to sing in front of people. 3 years ago I decided to conquer that fear, with the support of my friends, by singing Karaoke in clubs. I immediately came alive! Feeling the music and enjoying the recognition, I truly sparkled. I later became a "Karaoke DJ" in North Andover and gained even more confidence. I totally enjoy my job as a KJ and the people who also love to sing. I love singing for an audience up there on stage. I feel like I am finally following my destiny and doing what makes me most happy.
I think that I would make a great Karaoke Idol because I am ambitious and sincere. I truly love when I am singing and I always appreciate other people's singing too. I have a big love for music and hope to become even more successful in this field someday!! Just being involved in the competition has already inspired me to keep trying harder and sing my very best!!
Finalist Pam (Sparkle) Sevincgil
Artist
Title
Time
Pam Sevincgil
We Belong
3:12'
Pam Sevincgil
I'm Like A Bird
3:27'
Pam Sevincgil
Crazy For You
3:22'

Jaime Salih Of Gloucester, Ma.
Representing Kitty O'Sheas In
Beverly, Ma.
I started singing at the age of 4. I have a large Italian family and we all get load and crazy sometimes, I just happen to be the one that sings. I have always loved to sing and perform in front of many people and since I stated to work as a KJ/DJ my obsession with Karaoke has gotten greater. It makes me laugh to see so many people at these Karaoke shows singing along with ma and dancing. I feel like a star. It has been a dream of mine to be recognized as someone who can "bring the house down" as my friends say. I have sung for family functions and events and also in talent showcases locally for years. I have the best time and Karaoke is not about a costume or fashion show but about talent to make people sing along and want to be up there on the stage with you.
I would love to be the Karaoke Idol to show everyone it is not about the size of a person or even a popularity contest. It's about everyone around you having a great time and knowing in my heart that I am the one who gave them that feeling. No matter the outcome of this contest having fun has been very rewarding. I also wanted to thanks the folks that did come and vote for me. I have one thing to say, "Get ready guys the fun has just begun"!!!!
Finalist Jamie Salih
Artist
Title
Time
Jaime Salih
I'll Be
3:36'
Jaime Salih
Last Dance/On The Radio
3:26'
Jamie Salih
Take It On The Run
3:39'

Brian Duarte Of Brockton, Ma.
Representing Randolph Country Club 2
In Randolph, Ma.
I have been singing since I was a kid. My mom used to stand me up on an old fashioned wooden stereo and I would gladly entertain her guests. I think she saw the sound of music too many times. But she saw something in me at that age. Since then I started singing in church which is my way of praying twice, mom says. Now I'm also doing community theater. Currently I'm doing an ensemble in Beauty & the Beast, with heart to heart productions. It's been an honor working with such incredible talent.
I think I should be the Karaoke Idol USA winner because I'm a seasoned performer. It's my way of making myself and the audience happy. Touching people through music is my purpose and I don't take it for granted. I would also love to make my sister Tracy Silva, the Boston Pops Search 2004 Winner proud of me as I was of her. Especially my wonderful mom who believes in me. Let's remember we are all winners and have fun at the Karaoke finals. As Karaoke is all about fun.
Darryl Bullock Of Cambridge, Ma.
Representing The Courtside Pub In
Cambridge, Ma.
Hey there, my name is Darryl and I am a 36 year old who likes to sing Karaoke for fun. I have a musical family, and a musical background that includes clarinet, bass guitar (way back when), local wedding/graduation bands, choral groups, jazz band, wind ensembles, NY state instrumental solo competitions, state competition concert bands, and two years in a business music program at Schenectady College and the Crane School of Music in Potsdam, NY. I appreciate all types of music and truly enjoy the harmonizing creativity of acapella. Although this contest is all about the lead vocals and presence on the stage, I am always happy blending in to the background as I harmonize and "Play" with a lead singer on the stage. I have been told that I sing with passion, and most of all, I like to have fun with the songs I sing. Hope to see you all there on Sunday as all of the contestants have fun entertaining you with their favorite songs.

John "Jape" Payette Of Gloucester, Ma.
Representing Camron's Restaurant In
Gloucester, Ma.
I am a 20-year veteran actor and singer/songwriter. I have my own business, Jape Scape Productions, Drama for all ages! Through which I teach and direct Pre-Schoolers all the way through adult. I am recently appearing on Saturday evenings in mysterycafe.com Boston Harbor Boat Cruise's as Elvis in "Blue Suede Clues". I am also an author of children's picture book's. action adventure series, "Jape the Grape Ape from outer space" There are currently two episodes available in print and more on the way
Visit Jape's website at www.japescape.com
I think I should be the Karaoke Idol because I really enjoy singing and bringing smiles to people's faces and warmth to their hearts. I would also love a chance to get my music out there more and let people know who I am!
Finalist John "Jape" Payette
Artist
Title
Time
John Payette
Wanted Dead or Alive
4:00'
John Payette
I Think I love You
2:32'
John Payette
Your Song
3:43'

David (Daveed) Bonilla Of Lynn, Ma.
Representing 47 Central In
Lynn, Ma.
"My life is a sheet music"... ups and downs but always playing. Since I was a child, music fascinated me. I started singing when I was very young and I'll still be singing when I die. Thru the years, I have been part of many vocal groups and choirs. I sang in several theaters including the most prestigious one in Puerto Rico. I toured with the Latin Continental Singers in 1993 in and around Puerto Rico and Costa Rica. I also sang chorus roll in an Opera with Solo singers from Europe at the biggest theater in Puerto Rico. I strongly believe music makes the world go 'round. "Music is the soul of life and the heart of me".
I should be your Karaoke Idol U.S.A. because music is my life, my passion and I always take it seriously. I live music, I breath music and it is music what keeps me going strong. I want to be able to touch people thru the strongest form of communication that is MUSIC.
Finalist David Bonilla
Artist
Title
Time
David Bonilla
Nobody Wants To Be Lonely
3:46'
David Bonilla
Amazed
3:36'
David Bonilla
My Way
4:23'
Jessica (Mamas) Reyes Of Malden, Ma.
Representing Hammer Heads 2 In
Lynn, Ma.
I have always loved to sing. Be it in the shower or in front of a room full of people. I use to work for a Karaoke company back in the day and I loved every minute of it. I go and sing Karaoke at least 4 times a week. Singing and performing in front of a crowd is so much fun, and to hear people cheer for you is a blessing.
Why I should be your Karaoke Idol? Because I am all about having a good time and making people smile and laugh. I am ready to get up there, sing my heart out, and have so much fun doing it. And even if I don't win I still had a BLAST.
Finalist Jessica Reyes
Artist
Title
Time
Jessica Reyes
Bless The Broken Road
3:15'
Jessica Reyes
Somebody's Hero
3:17'
Jessica Reyes
Something More
3:00'

Tracey Hogan Of East Walpole, Ma.
Representing The Sports Page Thursday In
Beverly, Ma.
I have enjoyed music my whole life, and incorporated it into my daily routine as often as possible.
I believe it would be an honor to be the Karaoke Idol winner as the Votes would be from you.
Finalist Tracey Hogan
Artist
Title
Time
Tracey Hogan
Turn Off The Light
3:28'
Tracey Hogan
Babylon
3:28'
Tracey Hogan
Closer To Fine
3:56'

Debbie Scannell Of Haverhill, Ma.
Representing The Sports Page Friday In
Beverly, Ma.
I think I was born to sing, somewhere. I have been singing as long as I can remember. Church choirs, High school chorus, singing with my family at Christmas time and recently tried my hand at theater, with Neverland Theater in Joseph and The Amazing Technicolor Dream Coat. I love how singing makes me feel, and more importantly I like the feeling others get. The songs I sing seem to trigger people's memories and they smile, sing along and remember. Isn't that what it's all about? Feeling good inside and out. Life is too short, so enjoy it and if you can make other's smile and enjoy themselves along the way, all the more. I have hosted for Ann in past years, and I love the experience and I love the people I have met during my journey and the friends I have made along the way.
I believe I would make a good Karaoke Idol because I am as they say "keeping it real". I am who I am, what you see is what you get and I like the way singing makes me and others feel. I think striking memories within people is important and I love the people I met during this journey and the friends I have made. Singing is fun and that's the way life should be, fun.
Finalist Debbie Scannell
Artist
Title
Time
Debbie Scannell
Invincible
4:12'
Debbie Scannell
Last Dance
3:17'
Debbie Scannell
Self Control
4:06'

Tom Edmonds Of Beverly, Ma.
Representing The Sports Page Saturday In
Beverly, Ma.
Music has always been an important part of my life. For more than 25 years I have performed throughout the north shore area. Community theater productions have included roles in such shows as My Fair Lady, Fiddler On The Roof, Man Of La Mancha and Godspell. Many years were spent performing in musical reviews at the Prince Restaurant in Saugus, Ma. with Crossroad Theater Company. Most recently, I have been active with Bova Productions, presenting musical reviews at various area venues. I am also featured soloist at Immanuel Church in my hometown of Beverly, Ma.
Win or lose, this contest has already been a terrific experience. I would be awfully naive to think that I could win this competition on "talent" alone. Karaoke is all about having fun. I know that the songs I usually choose to sing are not always very familiar, but they are songs that help me to expand my abilities and, more importantly, songs that have special meaning for me. If you like what you hear, I would consider it an honor if you could choose me as the Karaoke Idol.
Finalist Tom Edmonds
Artist
Title
Time
Tom Edmonds
What Kind Of Fool Am I
2:42'
Tom Edmonds
Come Fly With Me
3:14'
Tom Edmonds
On Broadway
2:54'
Cathy Baird Of Watertown, Ma.
Representing Legends In
Waltham, Ma.
I've been singing in the shower and in the car for as long as I can remember. However I didn't join a chorus until middle school. I also did Les Miserables In High school. Which I loved. I did Karaoke for the first time in College. What a rush that was! I was in my first Karaoke contest in April of this year. When I went on my first cruise. It was great to be up on stage with all eyes focused on me.
I love attention. So what better way to get it than trying to become the next Karaoke Idol.
Finalist Cathy Baird
Artist
Title
Time
Cathy Baird
Because The Night
3:18'
Cathy Baird
Don't Know Why
3:03'
Cathy Baird
You Were Meant for Me
3:56'
Joel Fedenyszen Of Haverhill, Ma.
Representing Cheerleaders In
Haverhill, Ma.
I never would have considered myself a singer until a complete stranger caught me singing and said I had a great voice. Assuming it to be a joke, I never gave it a second thought. Then Karaoke started at my local pub and I was peer pressured into participating. That was three years ago, now it's kind of a hobby. I never sang or performed on stage, I am not a show stopper by any means, but many of my friends just enjoy hearing me sing (why? I still have no idea).
I think I would make a great Karaoke Idol winner because of what Karaoke is: just having fun. No need to take things too seriously when you're drinking and singing. Just have a good time with it.
Finalist Joel Fedenyszen
Artist
Title
Time
Joel Fedenyszen
Escape (The Pina Colada Song)
4:12'
Joel Fedenyszen
Closing Time
3:44'
Joel Fedenyszen
I Saw Her Standing There
2:54'

Candice Hassam Of Hampstead, NH.
Representing Cheerleaders In
Haverhill, Ma.
My reasons for wanting to win the Karaoke Idol contest are as follows. As a young girl I had always been somewhat shy. I had trouble relating to others because of some of the traumatic instances I had to face. But for some reason music had always been my crutch. Whatever it was, the emotions that filled my soul from a melody or a great lyric. I realized that it was something that united us all together. Music is such a powerful force in our lives. You see, everyone loves to be happy and a fun song will bring the best out in jus. But we also all have days when we need that special song to touch our hearts. All songs are written by someone with a story to tell. And I feel that because of my life's experience that I would love to be at a point someday that I could touch someone's life with my story.
Winning this contest would help to give me the confidence to take my singing to the next level. I hope you all enjoy my performances as well as the finalists.
Finalist Candice Hassam
Artist
Title
Time
Candice Hassam
Who Will Save Your Soul
3:16'
Candice Hassam
Secret Of Life
3:49'
Candice Hassam
We Belong
3:16'
---
Looking To Download Music?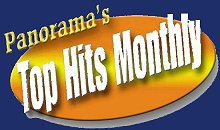 KaraokeIdolUSA has partnered up with Tops Hits Monthly, one of the largest producers of karaoke tracks on the planet! Checkout these HOT deals on customized karaoke CD's and downloadable tracks starting at only $2!
Click Here to check out these great deals!
---
Home | About Us | Vote | Contestants | Locations | FAQ | Rules
VIP Lounge | Club Owners | Webmaster Contact | Contact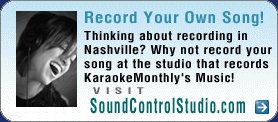 Copyright 2005
Ann Lanphear Karaoke
All Rights Reserved
KaraokeIdolUSA.com may make references to American Idol TM but is not affiliated with American Idol TM or FOX television in any capacity. References to American Idol are provided solely as an informative and entertaining resource. No copyright infringement is intended nor implied.